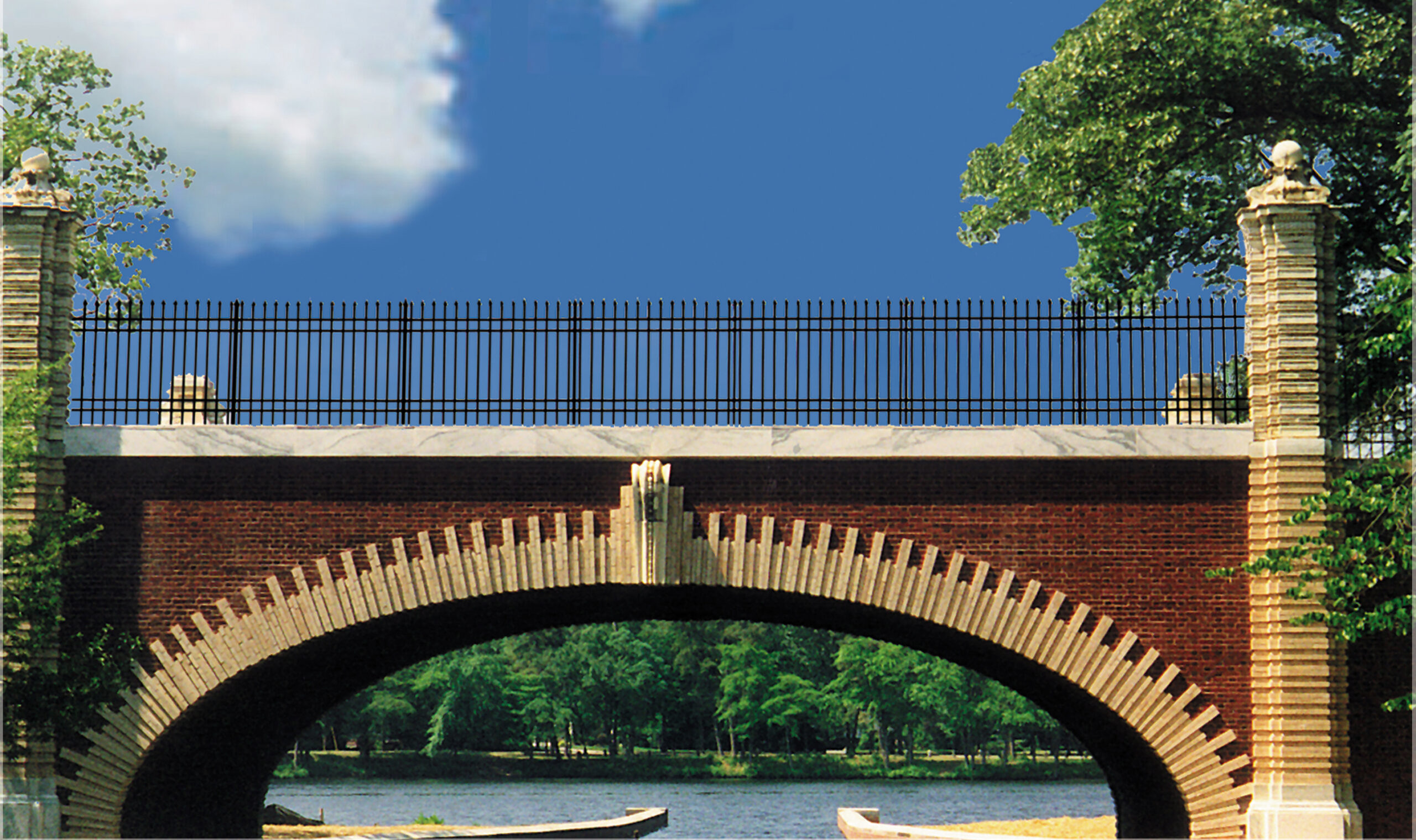 Part of a large estate-owned by railroad tycoon George Jay Gould, the Georgian Court Bridge was constructed in 1899, during the Gilded Age, to carry travelers over a man-made lagoon which connected the estate to a nearby lake. Bruce Price, a noted architect of the time, designed the bridge in the Georgian style of the estate. This historic landmark has been used over the years as a backdrop for weddings and graduations. Today it is part of the Georgian Court College campus and is still traveled by numerous drivers, pedestrians and bicyclists.
By 1999, a century of wear and tear had led to significant deterioration. A thorough research and investigation of the bridge revealed some loose pillars, tilted pillars, spalled, missing and loose brick, damaged and missing terra cotta, deteriorated mortar, water seepage through the structure, vegetation, bug infestation, dislodged marble, graffiti, paint and dirt.
Graciano was instrumental in gently restoring this cherished beauty to its original state. Work included removal of roadway surface, complete mortar joint replacement, brick facade replacement, brick stabilization rebuilding of brick retaining walls, cleaning of brick structure, resurfacing of roadway, and marble and terra cotta restoration and replacement. All work was performed according to the standards of the New Jersey Historical Trust as well as those of the Secretary of Interior. Additionally, historical restoration requires an increased level of documentation and for this project it included the taking of over a thousand photographs.
The combined efforts of Graciano Corporation and Jenny Engineering in restoring this beautiful structure have garnered several awards, including the 1999 New Jersey State Historic Preservation Award for Outstanding Restoration and a Merit Award from the U.S. Department of Transportation. Graciano has also received the International Masonry Institute's 1999 Golden Trowel Award for Best in Restoration.