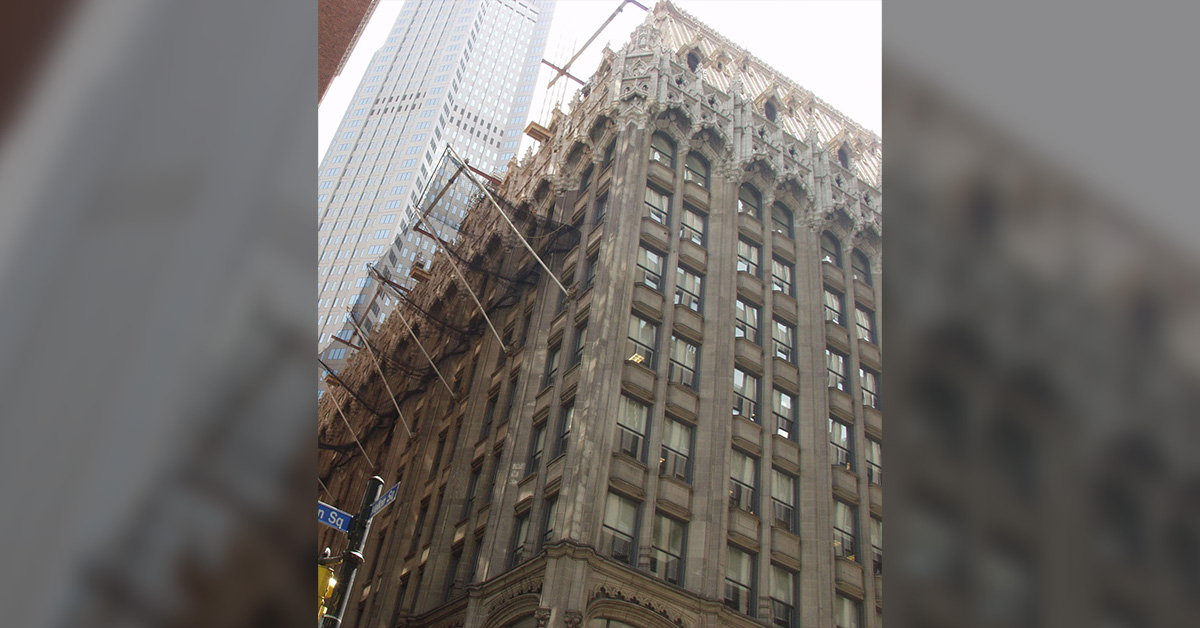 Two Mellon Center, is one of Pittsburgh's most stunning landmarks. An imposing Flemish-Gothic style limestone structure, the building occupies a full city block and features a sixty-five-feet high mansard roof pitched at a 17° angle. Each elevation of the roof features 38 dormers of varying size that are positioned in three uniform tiers spreading across surfaces of the mansards. The building is also outfitted with two towers that augment the overall height of the structure, a six-foot balustrade wrapping the perimeter of the roofline, and two interior balustrades positioned on the flat areas of the roof surface.
As the masonry contractor responsible for the full-scale restoration of the building, Graciano Corporation partnered with the architectural and engineering firm of Raths, Raths and Johnson to develop a comprehensive system to stop the water infiltration that had plagued the structure since its original construction in 1919. The five-year, multi-million dollar restoration effort involved repairs to both the main roof and the mansards, installation of a water diversion system and waterproofing of exterior surfaces. The assignment also included replacement of damaged terra-cotta components with glass fiber reinforced concrete (GFRC) and restoration of architectural elements – most notably, the four distinctive terra-cotta eagles positioned at the corners of the building's roofline.
After decades of leakage, significant repairs to the structure's steelwork were also required. Many of the steel angles, pins and channels that anchored the terra cotta had been damaged, and several sections of the steelwork supporting the dormers needed replacement. Due to the steeply pitched roofline, specialized rigging systems with individual man baskets were used to reach the areas targeted for repairs.
According to Bernard Koblinsky, an Assistant Vice President at Mellon Financial Corporation, "Due to years of leakage, the 10th floor of the building had become completely unusable. They have tried to repair this roof since the day it was built," he adds. "Now it is finally being preserved and will be saved. The architects developed a water-diversion system and Graciano Corporation is executing the repairs and restora tion. These repairs have been successful; we found the right team. This is a premier building of this vintage in Pittsburgh. It is truly one of a kind."
Name: Two Mellon Center
Completion Date: 12/1/2005
Owner: Mellon Financial
Architect: Raths, Raths and Johnson
General Contractor: Graciano Corporation
Waterproofing

Unit Stone Replacement

Terra Cotta

Stonework

Sealants

Repointing Masonry

Replacement

Repair

Pressure Washing

Parapet & Coping Reconstruction

New Brick Construction

Masonry Surface Rehabilitation

Masonry Cleaning

Flashings

Coatings

Chemical Cleaning

Brick Facade Rebuild

Acidic Cleaners