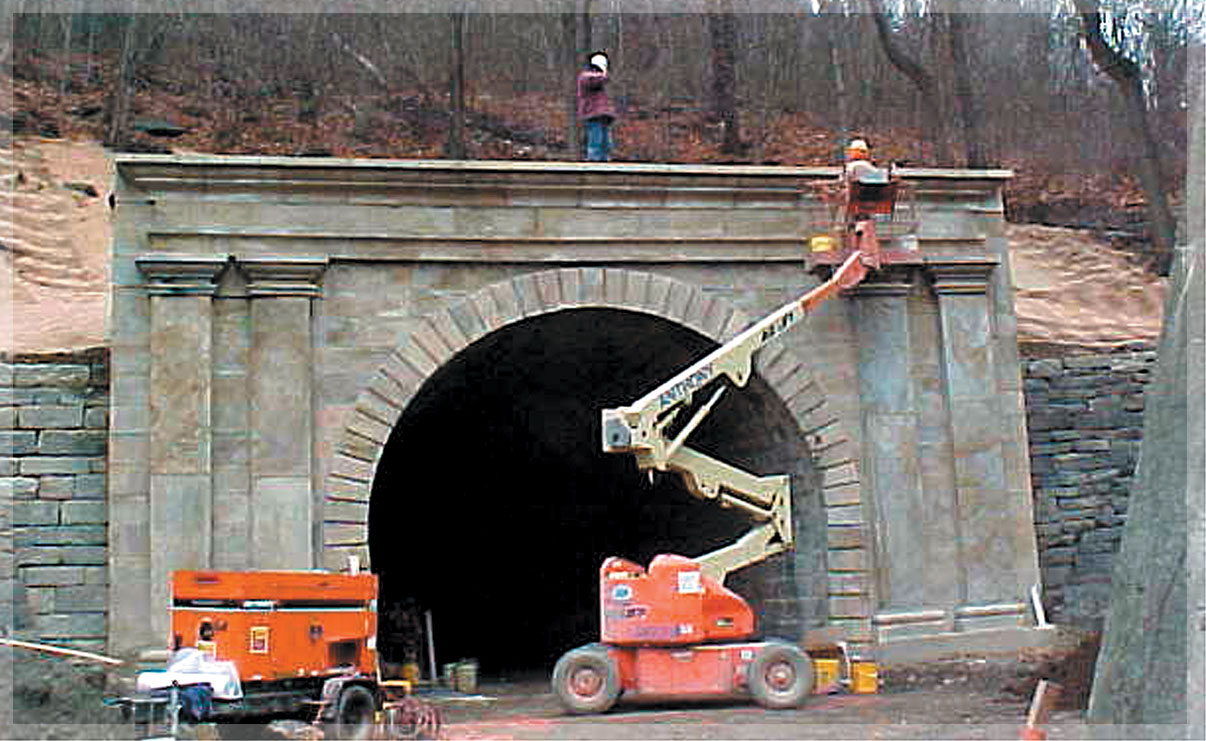 Completed in 1833, the Staple Bend Tunnel was the first railroad tunnel, and the third tunnel of any kind, in the United States. Located about four miles east of Johnstown, PA, the tunnel is part of the Allegheny Portage Railroad National Historic Site, run by the National Park Service.
The Allegheny Portage Railroad, which operated between 1834 and 1852, was considered a technological wonder in its day, employing a series of inclined planes to cross the Allegheny Mountains. This railroad played a critical role in opening the interior of the United States to trade and settlement.
At 20 feet in height and width and over 901 feet long, the Staple Bend Tunnel featured grand entranceways, designed in Egyptian Revival style with a low relief lintel supported by Doric pilasters on each side, which once served to impress travelers. Many years of disuse and vandalism had left the tunnel in disrepair, until the National Park Service oversaw its restoration in 2000-2001.
Graciano Corporation was instrumental in bringing the tunnel a second life, as part of the Main Line, a biking/walking trail that will one day run from Pittsburgh to Harrisburg.
Following strict Historic Landmark guidelines, Graciano restored both portals by cleaning, patching with Jahn repair mortar, resetting displaced stone, and installing Dutchman to the cap stone. They also rebuilt dry-laid retaining walls, which were salvaged from the existing walls and built a new sandstone retaining wall on the east portal. And they restored the arched sandstone liners at each portal. Interior improvements included resetting of stone, as well as grout injection into mortar joints of the stone liner.
Keith Newlin of the National Park Service was project manager in the renovation of the Stable Bend Tunnel.
According to Newlin, "Graciano brought the necessary expertise to repair and restore the portals, retaining walls and tunnel liner. They did an excellent job in preserving this Historic Landmark."