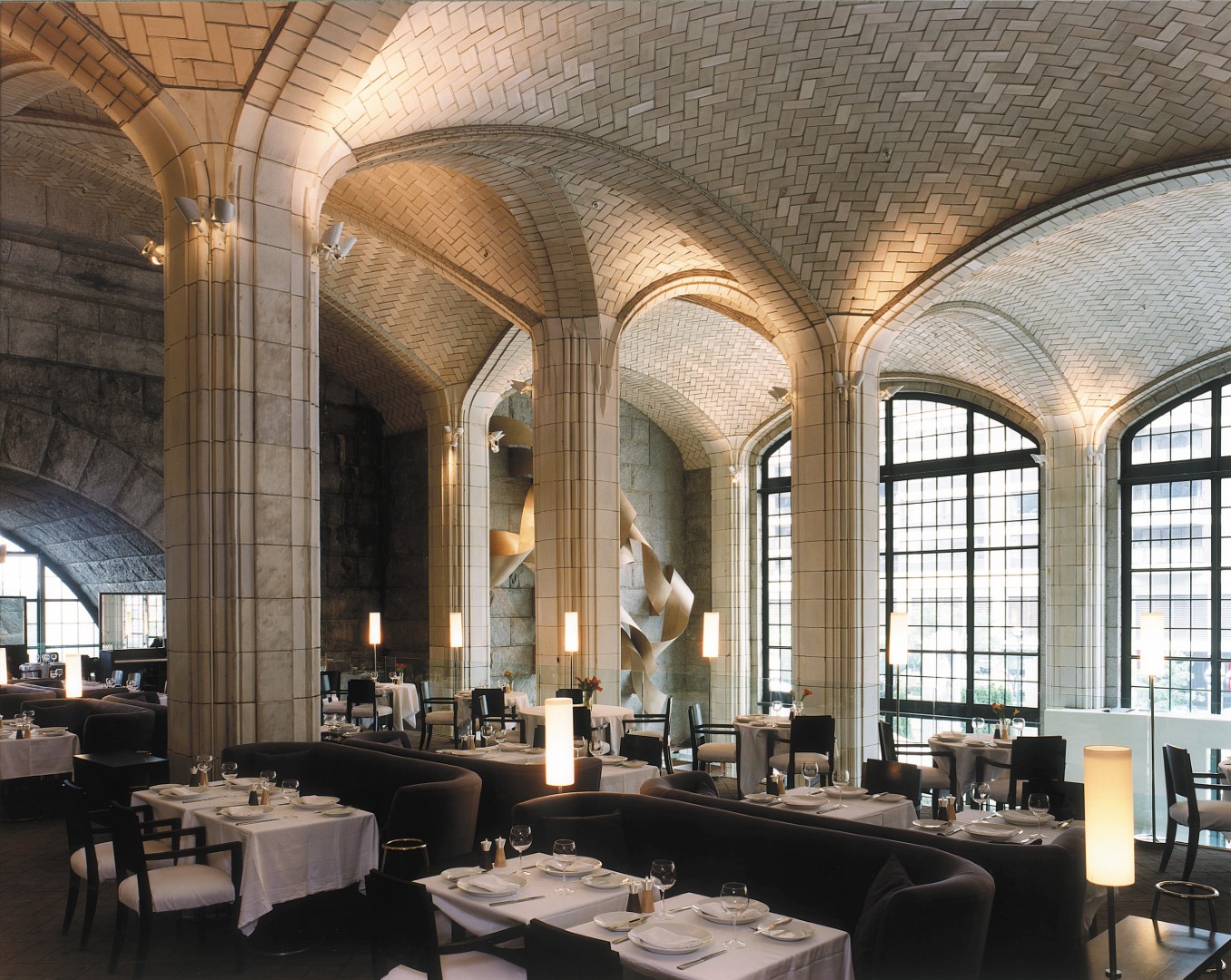 This project included what is considered to be the first-ever rebuilding of Guastavino vaults—and one of the largest terra cotta repair and restoration projects in the world.
The original structure was designed in 1914 by Henry Hornbostel for use as an open-air market. The tongue-and-groove terra cotta ceiling, designed by Spanish architect Rafael Guastivino y Esposito, consists of 32 domed, self-supporting four-sided vaults, with dramatic 30 by 30 foot vault ceilings, varying in height from 24 to 44 feet. Four layers of glazed terra cotta tiles set at perpendicular angles in a basket-weave pattern form the "Guastivino vaults."
A historic landmark, this cathedral-like space was restored, after more than half a century of neglect, to its original use as a public marketplace—the now thriving Bridgemarket. At over 98,000 square feet, it is now home to several shops and a restaurant.
Graciano restoration specialists cleaned stone, repaired surface cracks, pointed granite masonry, and rebuilt entire tile vaults using historical methods of cross-bonded tile built on wooden centers. Where steel supports had rusted and expanded, pushing the terra cotta column covers out of alignment, Graciano removed and reset those tiles. Mortar joints were removed, and new pointing was done to match in terms of color and raised joint tooling. Vaults were waterproofed at the top surface, and cracks were repaired. Thousands of terra cotta tiles were cleaned, repaired and replaced. New tiles from Boston Valley Terra Cotta were kiln fired and color matched to the originals, based upon Graciano's exacting standards.
Restoration of the arches involved repair and replacement of 65 terra cotta panels and 13 granite base units. In total, the project required over 3,600 terra cotta tiles, 1,728 trim borders and 3,290 ornate field pieces. Finally, Graciano technicians used advanced waterproofing systems and epoxy injection to protect the structure from further deterioration.
"At first glance, the soaring terra cotta barrel-vaulted arches of the restoration project recently completed by Graciano Corporation seem to belong to a church in the south of France," wrote Eleanor Mancusi in Traditional Building. "What a surprise to discover that the job constituted the Manhattan underbelly of New York City's Queensboro Bridge."